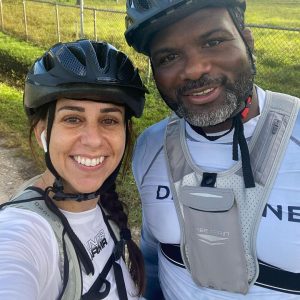 On January 8th, Julie McMahon's and Din Thomas' Ride For Awareness Event will be supporting Operation: Safe Escape! Every year, these to amazing people do a bike ride across Florida for charity. 2022's January Ride for Awareness will be for OSE! The two-day ride, currently planned to start on January 8th, will take Julie & Din across the state, from Titusville to Clearwater. Operation: Safe Escape will be giving away prizes and swag, and sponsorships are now available and OSE will also have swag available at our upcoming swag store in December!
As always, your generous donations make a huge impact on survivors and their families.
Additionally, if you or someone you know may be interested in becoming a sponsor for this event, we would LOVE to feature you. There are Silver, Gold, and Platinum donation levels for our sponsors, at $100, $250, and $500 levels. If you're interested in helping sponsor this event, please reach out to Tony Hunt at [email protected] and he will supply more information for Sponsorship.
Here is the link for the event donations:
https://app.theauxilia.com/Event/ride_for_awareness
Thank you all for your continued support!
-Tony